A

BOUT

M

IRIALLIA (AND THIS SITE)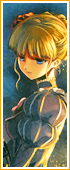 Miriallia
is one of the talented webmistress you can find around the web. She first get into the websites business co-founding two anime/manga-related fansites, Bleach Revolution and MÄR Heaven Journey, then she met the fanlistings world and slowly but inexorably get absorbed by it. Her last, but not surely least, website outside the fanlistings business is an Italian resource for all the Code GEASS~ Hangyaku no Lelouch fans, Stage 0, run in cooperation with Lacus Clyne and Dorothy. She's also a reliable trouble checker at THE ANIME FANLISTINGS NETWORK, and she collaborates with a group of manga scanlators as english/italian translator and editor.

(taken from here)

Aka: Diana, Kuchiki Rukia, C.C., Katsumi and I don't remember how many
Birthday: January 18th, 1986
Country: Italy
Profession: Student (I study foreign languages in Messina)
Interests: reading, manga, anime, foreign languages, internet
Favourite mangas: Neither, Ruroni Kenshin, Full Moon wo Sagashite, Shinshi Doumei Cross, Katekyo Hitman Reborn!, Tsubasa Chronicle, ARMS, Nabari no Ou, Hana-Kimi, DN Angel, MAR, Bleach, Erementar Gerad, Code GEASS Nightmare of Nunnally, Fullmetal Alchemist, Vampire Knight, Zombie Loan, Majin Tantei Nougami Neuro.
Favourite anime: Code GEASS , Gundam (the most of the series), all the titles I wrote for mangas.
Favourite Book: Romeo & Juliet, The Picture of Dorian Gray.
Favourite Author: William Shakespeare.
Favourite Mangaka: Matsuri Hino.
Favourite color: Navy blue
Favourite Characters: omg too many, but at the moment, my favourite ones are Lelouch, C.C., Shirley (all from Code GEASS), Mukuro, Chrome (Katekyo Hitman Reborn), Kenshin, Kaoru (Ruroni Kenshin), Allelujah, Soma, Louise (Gundam 00), Kaname, Ichiru, Shizuka, Rima (Vampire Knight), Phantom, Diana (MAR)
Favourite Music: Japanese music, my favourite singer is Takanori Nishikawa .

If you want to know more, please visit her personal collective,
Wonderland
.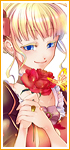 Apart from all the technical information that makes her an honorable webmistress worthy of a fanlisting dedicated to her, to me Miriallia-chan is like a little sister, and we share a beautiful friendship. Despite not being able to be in touch very often, both overhelmed with her respective life, we have a great affection towards each other and even i sometimes we don't get along very well because of differents points of views and vision of things, we are both willing not to let our bond be torn by something like that.

♥





I have to confess that building her fanlisting has not been in my mind for longtime, but one day I've decided to apply for it when I've laid my eyes on a series of simply beautiful and full of love new sites and revamping of an old one she made. I've always loved her colorful style and her creativity, but those ones really made me realize the progress she made. In my opinion, it's quite non-sense and useless to apply for a fanlisting in the Webmasters for a person ony because one loves him/her and not because he/she is an actual webmaster/webmistress with skills. Doing so, the Webmasters category would become non-sense. Besides, I've always also admired the fact she's able to take care of multiple things at the same time and that she put lots of efforts, quality of which I'm often lacking of. So, it was like a bulb switching on in my head, telling me it was time to apply :D




I usually suck at thinking over titles, but "Dreaming Juliet" popped up in my mind easly and quickly as nearly no one else. Miriallia is undeniably a dreamer, and she's a very very romantic girl, and she herself told once that she while reading "Romeo & Juliet" she felt an empathy and lots of things in common with the female protagonist. So, any other title wouldn't be more fitting that this one, I'm sure! ♥



I did my best for the layout and the content of this site, hoping for Miriallia to be proud of it, and I will be adding more skins as soon as life will let me have the time to do it. In the meanwhile, keep on dreaming, little angel. ♥

IMPORTANT!
All the graphic resources are credited in the SITELY section of this site.


SKIN 1: GRAY WITCH

The idea for this first skin came not only from the huge love who Miriallia has for C.C., but mainly from the fact that in her first cosplay of C.C., she portayed her in Lelouch's white shirt, together with her Cheese-kun.

♥

That's why I used three beautiful vectors found on MINITOKYO, respectively for the header, the banner for the statistics, and the footer. Then, I thought to use the vector of one illustration that seems to be one of the favourites of Miriallia's, since she use it for her profile in her collective, and also because it's connected to Yukana, who she admires a lot. Then, as finishing touch, I decided to fill the quite empty footer with some meaningful little pictures: Miriallia's otp, C.C. & Lelouch; C.C. & Shirley, who is her other most loved female character in Code GEASS; C.C. & Kallen, whose relationship is very important and has a personal meaning to her; C.C. & Cheese-kun, the most beloved material thing of C.C.'s, and also so much loved by Miriallia to the point of actually owning her own Cheese-kun. The name of the skin obviously comes from C.C.'s nickname.
SKIN 2: BEATRICE THE GOLDEN



This skin has been a project of mine for longtime, and it is almost a must, when it comes to Milly, or Beato as she is known by many people by now XD I think I can safely say Beatrice is one of Miriallia's favourite characters ever, and she is for sure the one whom she made the made the most number of cosplays, of every outfit, with fabulous results. ♥ So I tried to to use pictures of almost every version of Beatrice (1. those less-spoilerish 2. those connected to the cosplays she made 3. avoiding a particular version that she wouldn't appreciate AT ALL >.>), with a soft spot for those drawn by Kei Natsumi for the manga adaption of Banquet of the Golden Witch, since I know she loves them to bits (and so do I, so it has been a double pleasure). Furthermore, knowing how much she is into the romance between Beatrice and Battler, I decided to dedicate the footer to them. ♥ Last but not least, I've put a couple of quotes from the sound novels. It's kind of weird because one it's in japanese and the other in english, but I made that on purpose; I left the first one, meaning "Whoo.. am I?", in japanese because in english it hadn't the same immediacy, plus Miriallia uses this quote it in its original language (and the double "a" and "o" are not errors, that's exactly what Beatrice says, for those who may wonder), while for the second one I needed an immediate understanding, and that's why I put it in english. This sentence is essential in Beatrice's story, but more than that, I wanted to put it because it conveys also a personal meaning that I am sure she will get ;) XD The name of the skin is taken from one of the names with which Beatrice is known, and the one she uses to sign letters, it sounds good, plus I didn't want to repeat again the word "witch". ♥