What is a fanlisting? According to THE FANLISTING NETWORK (the original webdirectory for fanlistings), it is:

"..simply an online listing of fans of a subject, such as a TV show, actor, or musician, that is created by an individual and open for fans from around the world to join. There are no costs, and the only requirements to join a fanlisting are your name and country. Fanlistings do not have to be large sites (although some are) - they are just a place where you can have your name listed along with other fans of the same subject."
Very simple, isn't it? If you join a fanlisting, you are going only to be listed with other fans, and you can decide wherever you want your e-mail to be shown, or to link the fanlisting back with one of the buttons if you want your website to be listed along with your name! Please feel free to visit the section linked below (I suggest to read the guidelines, first!), fill the form, and that's it! ;)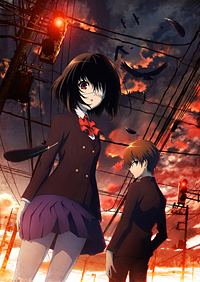 Another (

アナザー

 Anazā) is a Japanese fictional mystery horror novel by Yukito Ayatsuji, published on October 29, 2009 by Kadokawa Shoten. A manga adaptation by Hiro Kiyohara was serialized between the May 2010 and January 2012 issues of Kadokawa Shoten's Young Ace. A TV anime series produced by P.A. Works premiered on January 10, 2012, and a live-action film will be released in Japanese theatres on August 4, 2012.

Synopsis:

In 1972, a very popular honor student named Misaki Yomiyama died partway through the school year in Yomiyama North Middle School's class 3-3. The rest of the students, devastated by the unexpected loss, decided to carry on as if their classmate were still alive, going so far as to keep the desk in place and bringing it to the graduation ceremony. Yet no one could explain why their classmate, already dead and buried, was present on the graduation photo.

Then, in the spring of 1998, a boy named Sakakibara Kouichi transfers to that classroom, and he grows suspicious of the fearful atmosphere in that classroom. In particular, there is a beautiful, aloof girl named Mei Misaki who wears an eyepatch and is always alone drawing pictures.

[from Wikipedia and Another Wiki]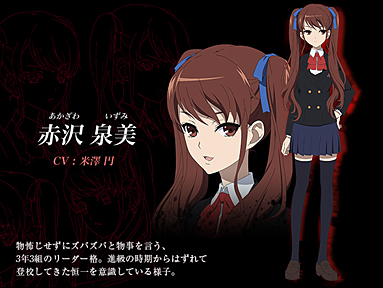 Izumi Akazawa is the head of countermeasures and later on becomes the Class Officer of Class 3-3 of 1998at Yomiyama North Middle School. She is in the drama club with Aya Ayano and Yumi Ogura. She has an older brother named Kazuma Akazawa.

Izumi is the straightforward and unabashed, and strong leader of the Countermeasures at Yomiyama Middle School's 3rd year class. Izumi is impulsive and sometimes really mischievous.

Her seiyuu is Madoka Yonezawa.
[from Another Wiki]

This site has been opened on March 18th, 2012, following the approval of the fanlisting subject at TAFL processed on February 17th, 2012. The fanlisting is listed under the category Characters 0-M, subcategory "Another". It has been built using Adobe Photoshop CS5 Extended and Adobe Dreamweaver CS3. If you are looking for for information about the graphic resources, please visit the Extra section.

I've chosen this title for this fanlisting because Izumi is the head of countermeasures in the 3rd section of the 3rd year, and she is very diligent in fullfilling her role and try to avoid her class to suffer the curse. She wants to have everything under control, and she is very annoyed and disappointed with herself and with the other who may have caused this, when it doesn't happen.

I am aware the nature of Izumi's character has been changed from the original novel and its manga version to the anime adaptation; personally, I came in contact with the series and Izumi through the anime, however this fanlisting covers all of Izumi's versions.

I liked Izumi at first sight, and I was lucky enough to get to love her even more when I got to know how she is.I don't entirely agree with her behaviour or statements sometimes, but I like her being a very proud and strong girl, who stand against the curse without fear, or trying to control it, in order to save herself and her classmates. Plus, she's one of the few characters who makes pigtails looks hot and not only cute, there's something very charming and provocative about them, and about hr expressions. She's definetely my most favourite character of the show!

❤